Melody: anon./trad. (in low F, G, Bb or C; mid F, G, C or D; and high F, G, Bb or C)
Lyrics: anon./trad. (but English by A.P.Graves and J.B.P.Dobbs)
Origin: Welsh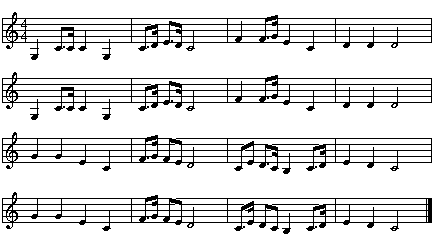 Rhwym wrth dy wreg-ys, gledd-yf gwyn dy dad;
At-ynt fy mach-gen! tros dy wlad! [/ dros wlad!]
Mwg y pen-tref-ydd gyf-yd gyd-a'r gwynt,
Draw dy gy-mrod-yr ânt yn gynt.
Sych dy ddag-rau, i/ar dy gyf-rwy naid,
Gwrando'r saethau'n su-o fel seirph/seirff di-baid;
Wrth dy fw-a, hyn wna'th fraich yn gref,
Cof-ia am dy dad, fel bu far-w ef!

Marchog i'w canol! dangos dy arfbais,
Cyfod goch faner Dychryn [y] Sais!
Chwyth yr hen utgorn a ferwina'i glust,
Byw o'i enciliad bydd yn dyst.
Swn gorfoledd clyw yr ennyd hon,
Bloeddio "Buddugoliaeth" tros Foel y Don;
Bendith arnat, dos yn enw'r nef!
Cof-ia am dy dad, fel bu far-w ef!


---

Fast to thy gir-dle fix thy father's brand!
Forth then his slay-ers to with-stand!
Ham-lets are smok-ing in their e-vil path.
Rise, Cym-ru's champ-ions, in your wrath!
No more weep-ing! to the sad-dle spring!
O hark the rush-ing ar-rows like ser-pents sing!
Now re-mem-ber, as you bend your bow,
Your sire with-in his cham-ber cold and low.

Full on the Saxon give your horses head!
Raise, raise the Dragon to his dread!
Now he has broken, now he flies in fear!
Now let your trumpet terrify his ear!
Shouts of triumph wake and echo on
For victory, our victory o'er Moel y Don:
God go with thee! covering thy head!
For sacred is the stroke for a father dead.


---

Men of Mor-gan-wg, rise a-gainst the foe!
Send him hence or lay him low,
Leave all your books, your pas-ture and your plough;
Gird on wea-pons, join us now.
Mor-gan calls you, bids you with him stand,
Drive the raid-ing Sa-xon from this fair land.
Mor-gan calls you ...

Men of Mor-gan-wg, rise to li-ber-ty!
Cym-ru now shall soon be free,
With her own lan-guage, sing-ing her own songs,
Right-ing all her conq-'ror's wrongs.
Mor-gan calls you ...
Mor-gan calls you ...


---

Sol-fa version of melody (4/4 in 8th.16th notes, range S,-S):


| 2S,1D.1D 2D 2S,| 1D.1R 1M.1R 4D |
| 2F 1F.1S 2M 2D | 2R 2R 4R |
| 2S,1D.1D 2D 2S,| 1D.1R 1M.1R 4D |
| 2F 1F.1S 2M 2D | 2R 2R 4R |
| 2S 2S 2M 2D | 1F.1S 1F 1M 4R |
| 1D 1M 1R.1D 2T,1D.1R | 2M 2R 4D |
| 2S 2S 2M 2D | 1F.1S 1F 1M 4R |
| 1D.1M 1R 1D 2T,1D.1R | 2M 2R 4D |

or:


| 2S,1D.1D 2D 2S,| 1D.1R 1M.1R 4D |
| 2F 2F 2M 2M | 2R 2R 4R |
| 2S,1D.1D 2D 2S,| 1D.1R 1M.1R 4D |
| 2F 2F 2M 2M | 2R 2R 4R |
| 2S 2S 2M 2D | 1F.1S 1F.1M 4R |
| 1D 1M 1R 1D 2T,1D 1R | 2M 2R 4D |
| 2S 2S 2M 2D | 1F.1S 1F.1M 4R |
| 1D 1M 1R 1D 2T,1D 1R | 2M 2R 4D |